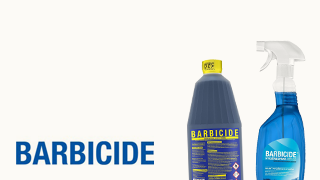 Toevoegen aan wishlist

Toevoegen aan wishlist

Toevoegen aan wishlist

Toevoegen aan wishlist
Barbicide schoonmaakmiddelen
Wanneer je werkt in een salon of je eigen salon hebt, dan is er niks fijner dan een schone kapsalon. Barbicide biedt met haar assortiment de oplossing. Hygiëne is vooral in het kappersvak ontzettend belangrijk. Denk aan reinigingsprays voor resten van haarlak of hygiëne doekjes voor de toonbank. Daarnaast biedt Barbicide ook desinfectieflacons aan. Hiermee reinig je gemakkelijk al je gereedschap zoals scharen en kammen.
Bestel de producten voor de scherpste prijs bij Sudac
Hygiëne is een van de belangrijkste dingen in de salon. Koop daarom al je schoonmaakspullen bij Sudac! Je koopt de producten van Barbicide snel en eenvoudig online. Wist je dat wij nog veel meer schoonmaakmiddelen aanbieden? Neem snel een kijkje.