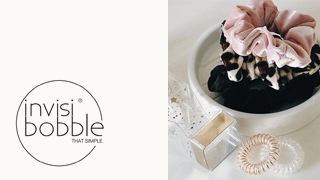 Geen producten gevonden binnen de selectie.
Invisibobble Elastiekjes
Je kan er niet genoeg van hebben als kapper: elastiekjes. Waarbij normale elastiekjes het haar kunnen beschadigen heeft Invisibobble hier wat op bedacht! Het brede assortiment biedt verschillende soorten en kleuren elastiekjes.
Er zitten alleen maar voordelen aan dit kleine, maar handige product. Het is super sterk en geeft geen druk op het haar. Hierdoor beschadig je het haar niet én laat het geen nare bobbels achter. Ook levert Invisibobble veel verschillende typen, zo is er voor ieder wat wils!
Invisibobble Waver
De Invisibobble Waver is nieuw en uniek in zijn soort. Je kan het vergelijken met een simpel haarspeld of haarschuifje. Dankzij het unieke ontwerp en speciale materiaal is de waver comfortabel en zacht. Ze hebben geen scherpe randen en hierdoor voel je ze bijna niet wanneer ze in het haar zitten. Verkrijgbaar in een normale variant en een PLUS variant voor dikker haar.
Invisibobble Sprunchie
Mega populair in de jaren 80, maar nu terug van weggeweest: sprunchies! Niet alleen de te leuke varianten zijn terug, maar ze zijn nu ook meer comfortabel dan ooit. Dit fijne elastiek is in een nieuw jasje gestoken en de originele Invisibobble elastiek vind je onder het stuk stof. Leuk én goed voor je haar!
Invisibobble Nano
Naast de normale Invisibobble elastiekje zijn er nu ook Nano varianten. Dit is het kleinste elastiekje uit het assortiment. Erg handig bij bijvoorbeeld vlechten of het opsteken van het haar. Ze zijn per drie verpakt en verkrijgbaar in meerdere kleuren!
Bestel de producten voor de scherpste prijs bij Sudac
Bij Sudac bieden wij een breed assortiment aan Invisibobble elastiekjes voor de beste prijs. Zo vind jij als haarprofessional altijd de beste producten voor de laagste prijs. Bestel je voor 22:00? Dan verzenden wij de producten (indien voorradig) dezelfde dag nog!