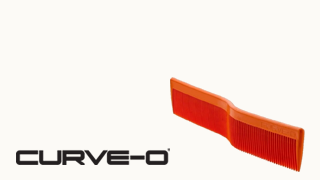 Toevoegen aan wishlist

Toevoegen aan wishlist

Toevoegen aan wishlist
Curve-o kam
Heb je weleens last van je polsen, armen of schouders na een dag knippen? Dat is verleden tijd met deze curve-o kam van Olivia Garden. De knipkam is ergonomisch gevormd en hierdoor ervaar je minder polswrijving. Dankzij de vormen van de curve-o kam volg je gemakkelijk de rondingen van het hoofd van je klant. Ook het knippen rond de hals en de oren zal eenvoudiger zijn.
Shop Curve-o online voor de scherpste prijs
Bij Sudac bieden wij een breed assortiment aan kappersbenodigdheden voor de beste prijs. Zo vind jij als haarprofessional altijd de beste producten voor de laagste prijs. Bestel je voor 22:00? Dan verzenden wij de producten (indien voorradig) dezelfde dag nog! Dit geldt voor al onze merken. Heb je een vraag of wil je graag meer informatie? Neem dan contact op met onze professionele klantenservice. Zij helpen je graag verder.