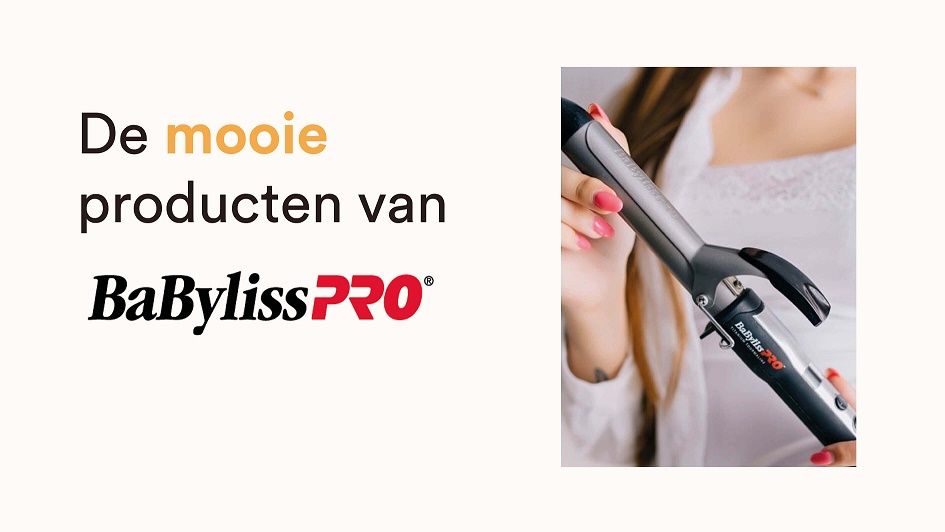 Producten 1 tot 12 van 127 in totaal
Pagina
Je leest momenteel de pagina

1
Tools van Babyliss PRO
Al tientallen jaren is het merk Babyliss PRO actief in de wereld van haarstyling- en verzorging. Voor ieder haartype biedt Babyliss een tool. Met het uitgebreide assortiment aan stijltangen, krultangen, föhn en tondeuses creëer je binnen een handomdraai de mooiste kapsels. Kwaliteit staat bij hen voorop en daarom zijn alle tools uitvoerig getest. Ben jij een professionele kapper en op zoek naar de beste tools voor in jouw salon? Dan is dit hét merk voor jou.
Krultangen
Krultangen zijn een van de populairste tools uit het Babyliss PRO assortiment. Wil je kleine krullen creëren? Kies dan voor een dunne krultang 19mm of 25mm. Heb jij liever grove krullen of een beach wave look? Dan is het beter om een krultang met een grotere diameter te kiezen, bijvoorbeeld de 38mm.
Voor kleine krullen:
Babyliss PRO Marcel Krultang – 13mm
Babyliss PRO Marcel Krultang – 16mm
Babyliss PRO Marcel Krultang – 19mm
Babyliss PRO Krultang Ceramic – 16mm
Babyliss PRO Krultang Ceramic – 19mm
Babyliss PRO Krultang Titanium Tourmaline – 25mm – 45w
 Voor grove krullen en beach waves:
Babyliss PRO Krultang Titanium Tourmaline – 32mm - 60w
Babyliss PRO Krultang Ceramic Titanium – 38mm
Babyliss PRO MiraCurl SteamTech
Babyliss PRO Krultang Titanium Tourmaline – 32mm -45w
Babyliss PRO Krultang Extra Lang – 32mm
Diffusers
Een handig hulpstuk bij de föhns van Babyliss PRO zijn de diffusers. Het gebruik van een diffuser is handig voor mensen met droog en pluizig haar. Dit is een hulpstuk die je vastzet op het uiteinde van de föhn. Hierdoor is het haar beschermd tegen de hitte van de föhn en kan je het drogen zonder het haar te beschadigen.  Bekijk goed of deze past op de bijbehorende föhn.
Droogkappen
Professionele droogkappen voor in de salon? Ook dit biedt Babyliss aan in haar assortiment. De PRO droogkap is van hoogwaardige kwaliteit en gemakkelijk in gebruik.
Föhns
Eenvoudig en snel je haar in model met de stylingtools van Babyliss PRO. Ben jij op zoek naar een föhn van goede kwaliteit? Dan zit je helemaal goed bij de haardrogers van Babyliss PRO. Sudac biedt een ruim aanbod aan professionele Babyliss PRO föhns. Voor elk haartype hebben wij een perfecte haardroger. Hierdoor kan jij je haar net zo mooi föhnen als bij de kapper. Gebruik voor het föhnen altijd een heat protection spray.
Stijltangen
De stijltang is tegenwoordig niet meer weg te denken in de kapperswereld. Dit populaire product is de musthave voor elke hair- & beautyfan! Heb jij een bos met krullen en wil je een andere haarstijl proberen? Kies dan voor een professionele stijltang van Babyliss PRO. Of je kiest voor klassiek, stoom of 2-in-1 stijltang. Voor ieder wat wils! Deze stijltangen maken het haar glad en glanzend steil zonder pluis. Babyliss PRO stijltangen zijn het allerbeste voor je haar. Dankzij de verwarmingselementen met keramiek wordt de warmte gelijkmatig verdeeld over het haar. Zo creëer jij binnen no-time de mooist stijlen. Dankzij de ruime keuze is er voor iedereen een geschikte tool.
Krulsets
Wil jij meer volume of prachtige glamourous krullen creëren? Dan heeft Babyliss PRO dé oplossing. Zij bieden professionele krulsets aan die het haar binnen een handomdraai omtovert tot een mooie bos krullen. Gebruik voor het inzetten van de krullers altijd een hitte beschermde spray.
Trimmers
Zoek je trimmers voor de perfecte baardverzorging? Trimmen tot een stoppelbaard of juist een volle baard? Dan is Sudac dé groothandel waar jij je professionele trimmers kan kopen. Professionele trimmers waarbij je in een handomdraai de baard creëert die jij wil. Het onderhouden en verzorgen van een baard was nog nooit zo eenvoudig en snel als met de trimmers van Babyliss PRO.
Tondeuses
Wil jij je kapsel bijwerken of juist iets nieuws creëren? Dan zijn de tondeuses van Babyliss PRO ideaal voor jou. Bij Sudac vind je professionele tondeuses van uitzonderlijke scheerkwaliteit voor thuis. Wat denk je bijvoorbeeld van deze handige mini tondeuse? Gemakkelijk in gebruik, zeer licht én zonder snoer.
Warme luchtborstel
Je haar zit altijd perfect als je van de kapper thuis komt. Hoe komt dat? De kapper werkt natuurlijk met een professionele warme luchtborstel! Een warme luchtborstel, ook wel föhnborstel genoemd, is dé tool om het haar op een gemakkelijk manier naar wens te stylen. Brengt het haar perfect in model met extra volume en mooie slag!
Bestel de producten voor de scherpste prijs bij Sudac
Bij Sudac bieden wij een breed assortiment aan Babyliss PRO tools voor de beste prijs. Zo vind jij als haarprofessional altijd de beste producten voor de laagste prijs. Bestel je voor 22:00? Dan verzenden wij de producten (indien voorradig) dezelfde dag nog! Dit geldt voor al onze merken. Heb je een vraag of wil je graag meer informatie? Neem dan contact op met onze professionele klantenservice. Zij helpen je graag verder.