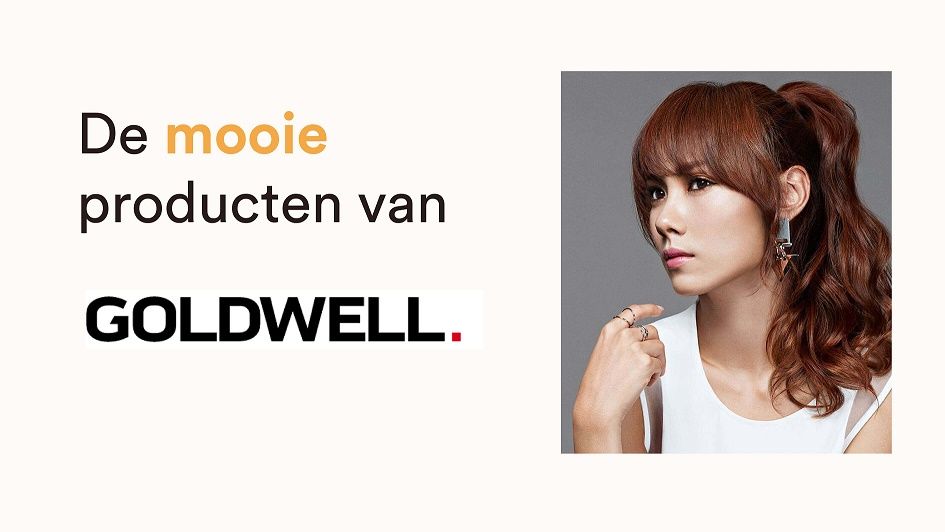 Producten 1 tot 12 van 797 in totaal
Pagina
Je leest momenteel de pagina

1
Toevoegen aan wishlist

Toevoegen aan wishlist
Goldwell haarproducten
Het populaire merk Goldwell is niet meer weg te denken binnen de kappersbranche. De producten zijn mega populair, ook bij consumenten. Daarom is dit merk ook perfect om te gebruiken én te verkopen in je salon. Goldwell is actief in meer dan 40 laden. Ze bieden een compleet assortiment aan: haarverzorging, styling, kleuring en omvorming.
Goldwell Colorance
De Colorance lijn van Goldwell is ontzettend populair. Deze demi-permanente haarkleuring zorgt voor prachtige resultaten. De kleuring beschermt en verzorgt het haar daarnaast optimaal. De lijn bevat de volgende kleursystemen: acid, express toning, cool blonde, intensive, lowlights, max reds, new grey, pastel shades, ph set en the red collection. Om de kleur te onderhouden en/of op te frissen gebruik je de demi-permanent kleurlijn met de Colorance Styling Mousse en de Colorance Soft Color.
Goldwell Topchic
Naast een demi-permanente kleurlijn biedt Goldwell met de Topchic producten ook permanente kleuringen aan. De kleursystemen bestaan uit: cool blonde, effects, hair color, max reds, new grey en the red collection. Houdt de salonkleur levendig met een van de producten uit de Goldwell Dualsenses Color lijn.
Goldwell Lagoom Jam
Een product die je niet mag missen in de salon: Goldwell Lagoom Jam Gel. Deze gewichtloze styling gel geeft het haar extra body en volume. Daarnaast beschermt de gel het haar tegen invloeden van buitenaf dankzij de UV-A en UV-B filters, panthenol en vrije radicalenvangers. De gel is te gebruiken voor zowel mannen als vrouwen. Daarmee maakt het een top product voor in jouw salon!
Goldwell Dualsenses
Een van de meest gebruikte verzorgingslijnen in de salons is de Goldwell Dualsenses. Deze lijn zorgt voor een effectieve expertverzorging. De uitgebreide verzorgingslijn bevat producten voor alle haartypes: gekleurd, krullend, mannen, beschadigd etc.
Bestel Goldwell met hoge korting online bij Sudac
Je bestelt de producten van Goldwell voor de scherpste prijs online. Wist je dat we nog veel meer haarproducten verkopen? Daarnaast heb je een garantie dat alleen jij als professionele kapper bij ons kan inkopen. Geen last van consumenten die deze scherpe kappersprijzen zien!